Organic Photovoltaics Group
For German version click here: Deutsche Version
Links
News
Erwin-Schrödinger Research Prize 2019
The interdisciplinary work on ferroelectricity in perovskite solar cells was awarded the Erwin-Schrödinger Prize 2019 of the Helmholz Association an the Helmholtz Foundation. more
Hannover Messe 2017
This year we present our new studies on organic photovoltaic applications on the KIT stand (Hall 27, Booth H51).
The model of Mies van der Rohe's Farnsworth House (scaled 1:50) collects solar energy by semi-transparent organic solar modules integrated into its facade, where they continuously harvest solar power all through the day.
The self-sustaining "Solar Glasses" continuously supply their electronics with power from the organic solar cells integrated into their lenses. This does not only save the space and weight of the battery but, for the first time, efficiently exploits the largest available area in glasses: the lenses.
Hannover Messe 2016
This year we were part of the Hannover Messe, the world's leading trade fair for industrial technology. Many thanks to all visitors and to everybody who supported us!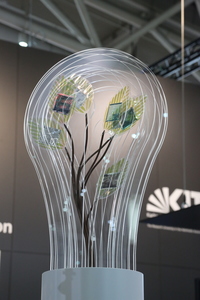 Gips-Schuele Research Award
Our research on organic nanoparticle dispersions for solar cell fabrication is awarded by the Gips-Schuele foundation. The use of nanoparticle dispersions allows for deposition without any harmful or toxic halogenated solvents. For further information see KIT press information (German only) and UNICORN project webpage.
Video only available in German.
KIC InnoEnergy Explore House video on organic photovoltaics and OLEDs
The team of KIC InnoEnergy Explore House produced a video on organic photovoltaics and OLED fabrication in our labs. It is now available on Youtube.
Fields of Research
The Organic Photovoltaics group of the Light Technology Institute is working on fabrication, optimization, simulation and basic understanding of organic solar cells and semiconductor devices. We focus on evaluation of new materials, deposition techniques and device fabrication including all steps from single layer deposition and structuring to device characterization.